Boyd Family

Click here to see a list of people & pages on this web site.

While we were living in the migrant hostel at Bradfield Park we spent many weekends in search of the property Mum& Dad had always dreamed about. Sixpence an acre? Ok if you have enough sixpences to buy 100 acres!
In 1956 Mum& Dad found a beautiful 5 acre lot in Galston. We spent nearly every weekend there after they bought the property. Dad 'built' a lean to with a 'mozzie' net around 3 sides.
He grew potatoes and onions and we all dug the ground to plant them and dig them up again. There was another 'building' - a bull shed. No bull now but an open fire to boil up the potatoes and onions - smother them in butter and sprinkle them with salt and pepper. Yum!!
We moved to Galston in (about) 1957. Dad had built a garage. One room - concrete floor, metal roof and fibro sides. Before we moved into it permanently we would spend weekends there. The garage had no walls. We slept in in hammocks that dad made (PS Mum & Dad had a double hammock!) Many friends and relatives came to enjoy the experience.
Irene's 12th birthday - Click here

Thomson's Waterhole - Click here

Our horse, Trixie - Click here
The dogs - Click here
Chickens etc: - Click here
Bill, Muriel & Susan: were talked into staying with us at Galston. They were on their way back to WA from NZ when the ship docked at Sydney. Bill went to the Labour Exchange in Chatswood and got a jub, with a van, at Singer Sewing Machines as a sales person. he had to drive back to Galston to ask Muriel how to thread a needle??!! After several months they decided they preferred Perth to Sydney. Bill got a job with Singer in Perth
Below: 11 Knights Road, Galston. Mum, Dad, Bob and our dog, Shane
Below: This is me. What is interesting about this photo is the background. The white building on the right is the "Moonya" where Bill, Muriel and Susan slept. It had a dirt floor and a piano where the hens often nested. The building in the middle is the bull shed (we never had a bull but the people who owned the property before us apparently did.)
The small building on the left housed the chook and horse food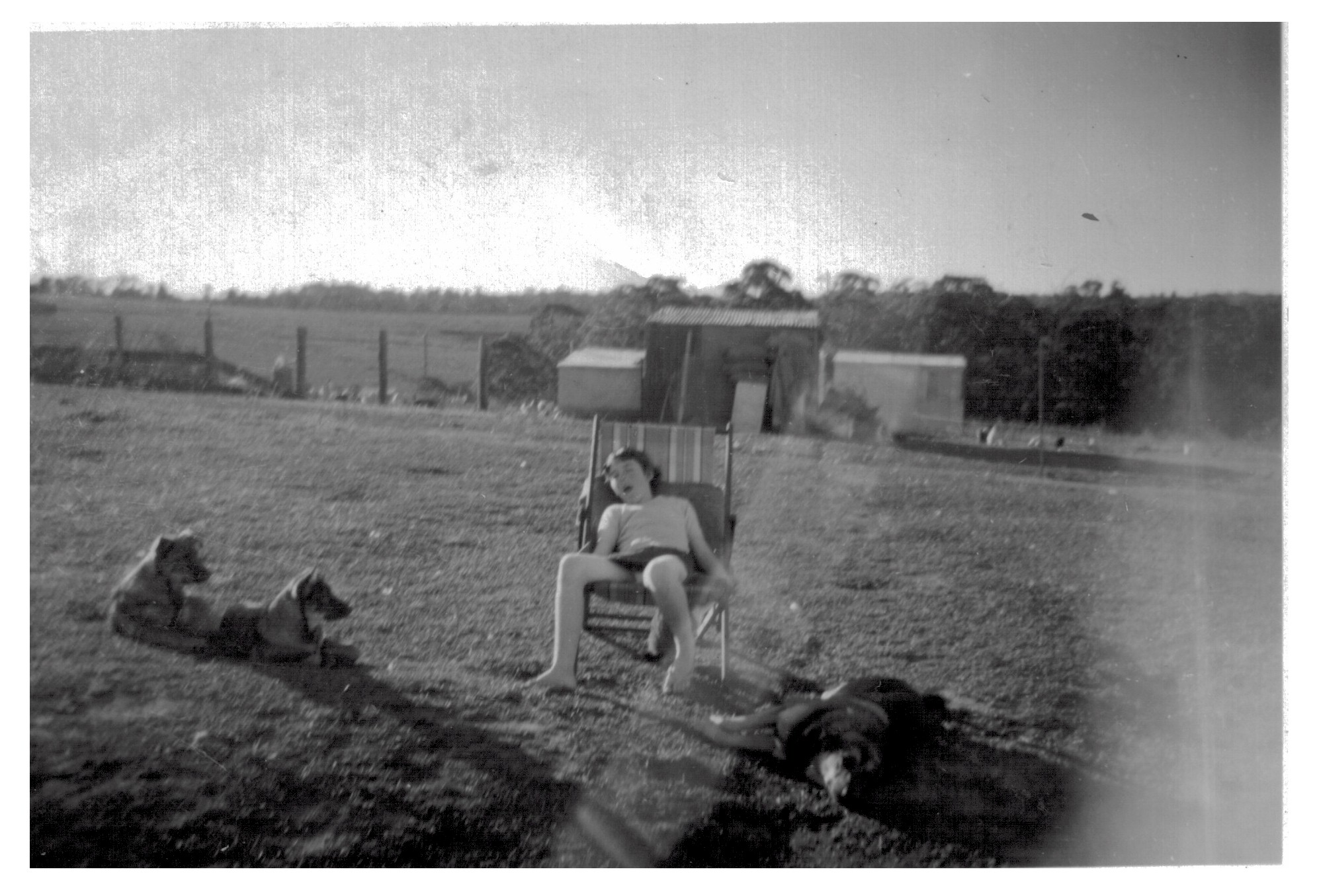 Below: Susan Boyd & Irene Boyd.
(Dad's youngest brother, Bill, and his wife, Muriel, came to stay with us for a while. This is their only child, Susan (left). She went to Galston Primary School . I was still going to the school at Bradfield Park.)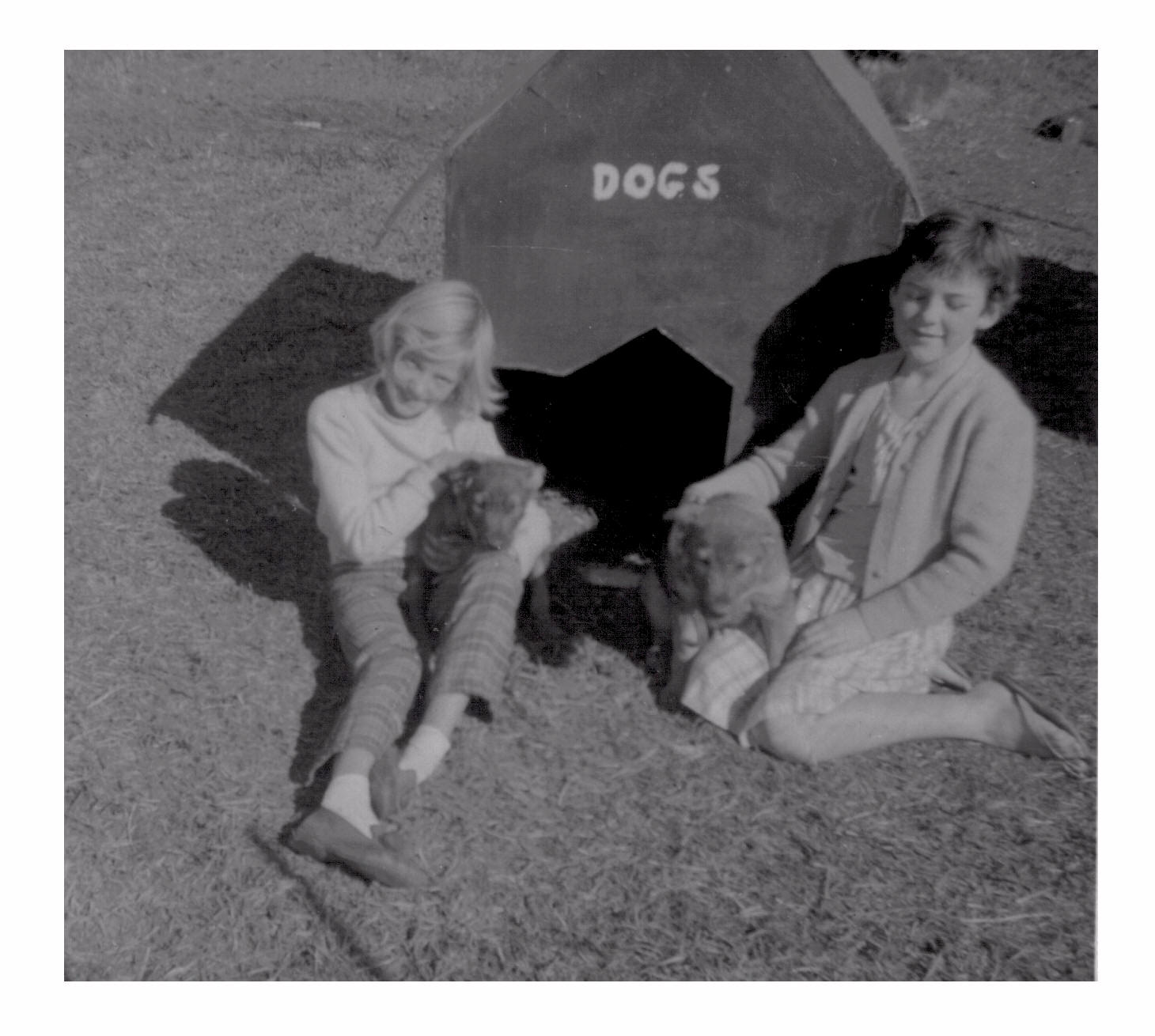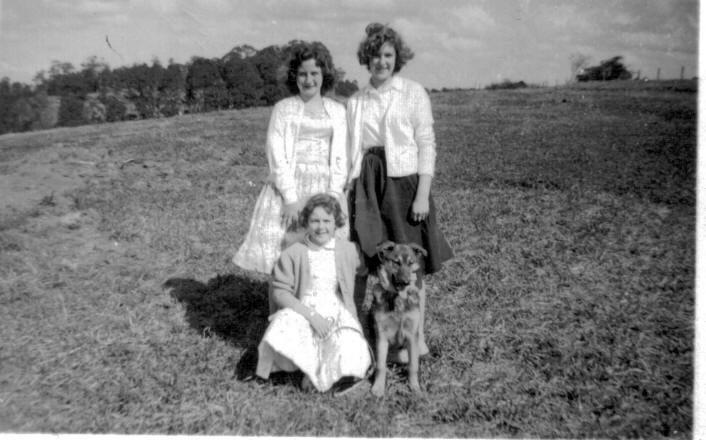 Below: This was the only time I remember Dad being unwell. His face was covered in 'cold sores'.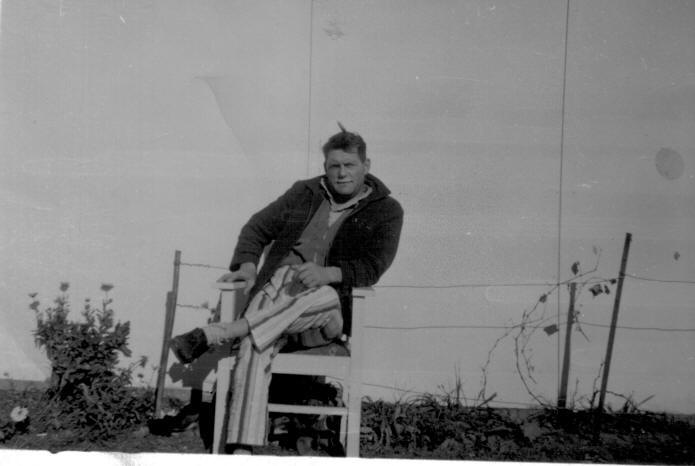 Below: Me (Irene) after a hair rolling episode with Bobbie (Carol) Hippsley.
The car is our Vauxhall Victa. Two tone brown i.e Dark brown and fawn.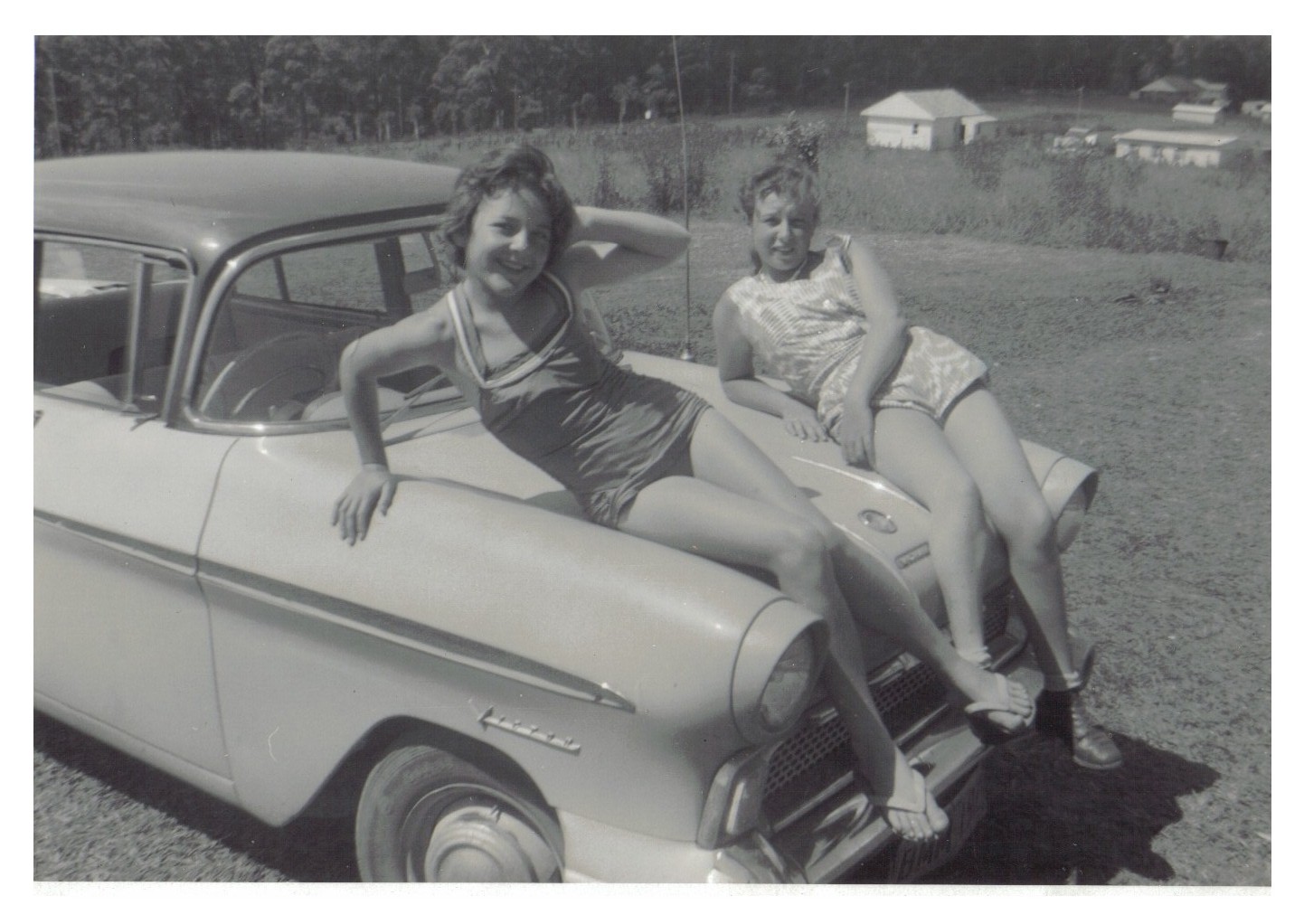 Below: Bridge in Galston Gorge: I am wearing the outfit I made in sewing classes in Year 6 (Age 12) at Bradfield Park Primary School. This photo was taken on the bridge at the bottom of Galston Gorge. My family was on their way home from work and school. We travelled trough "The Gorge" every day. I was at Bradfield Park School, Mum was working in the Hostel Child Minding Centre, Dad usually in the city e.g. Cockatoo Island, Glad as a receptionist in Lindfield and Bob in a supermarket at Gordon before he joined the Police Force when he was 19. .
The car was the Vauxhall Victa. Bought from Boyded Motors in Chatswood
Below: Mum with Joyce Royds and son, David, in the Vauxhall Victa.

Note... in the background on the right, the cement tubs for washing clothes, held up by 2 x 44 gallon drums (the same size used for our loo.. where did Dad get them from?) .. and the timber table. Also the dog kennel which Dad built can be seen on the right of this photo. The outdoor toilet is also in the background behind the kennelon the right. Inside was a 44 gallon drum and a wooden box to get up to it! Dad had to empty this by digging a hole somewhere on our block of land. I don't think that any of us were brave enough to find out where.
Dad built an "extension" to the garage. It had 2 tubs (in which I used to pluck the chooks), a kitchen cabinet, and, I think, the bath bath was moved from outside where it had been for a long time.
PS (I like the way you can see Dad's shadow in this photograph. Also I like that no one's head has been cut off. Well done Dad!!)
Below: My sister Gladys (probably 16). *** Look at the background!!!!
The washing tubs and wooden table. The dog house behind which was the bath.
Our home on the right (the garage) with 2 large corrugated iron doors.
Below: Brother, Bob, with Shane. N.B. Our "home" in the background (& Dad)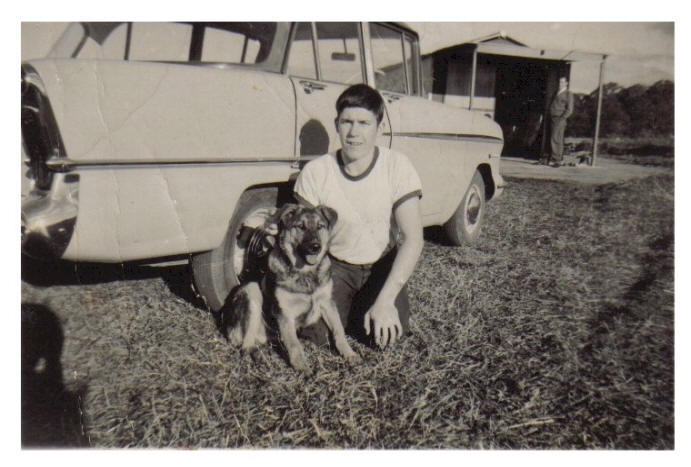 Below: Irene with what appears to be another hair rolling disaster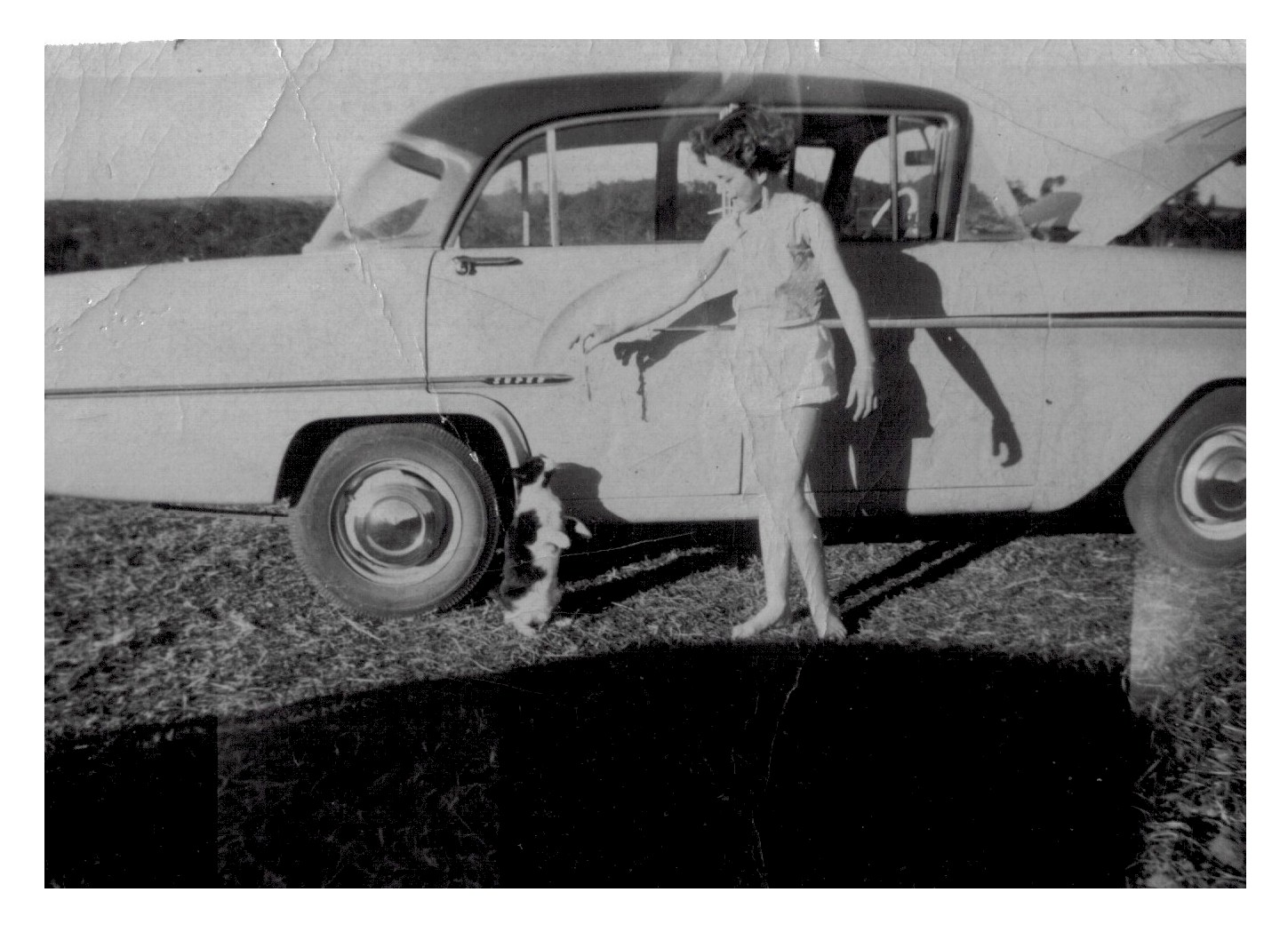 Below: Shane, Dad & Mum.
I love this photo because I remember Mum & Dad being so happy at the time.
The "garage" that dad built was our home for about 4 or 5 years. There were two double beds, one for Mum & dad and one form my sister and me. There was a small space between then for access. In front of them was a single bed for Bob which was also used as the 'lounge chair' and seat for eating on the laminex table. There was an ice box (the ice was picked up regularly on the way home from Hornsby (cnr Pacific Hwy and Galston Road) and a Primus stove to cook o n. Most food was cooked in a pressure cooker so that we only used that one pot. Everything was "very well" cooked!
When we were connected to electricity we purchased a fridge and, of course, a television. WE had a telephone with a handle to wind which connected us to an operator.